The Decline of the Password Managers: Survey Reveals a Massive Shift Toward Google and Apple's solutions
San Francisco, June 27, 2023 – A recent survey conducted by the digital legacy planning company DGLegacy® among 10 000 of its users shows that a staggering 63% of those who previously used third-party password manager solutions either have switched or are considering switching to Apple's iCloud Keychain or Google's Password Manager, built into Apple's iPhone and Google's Chrome browser, respectively.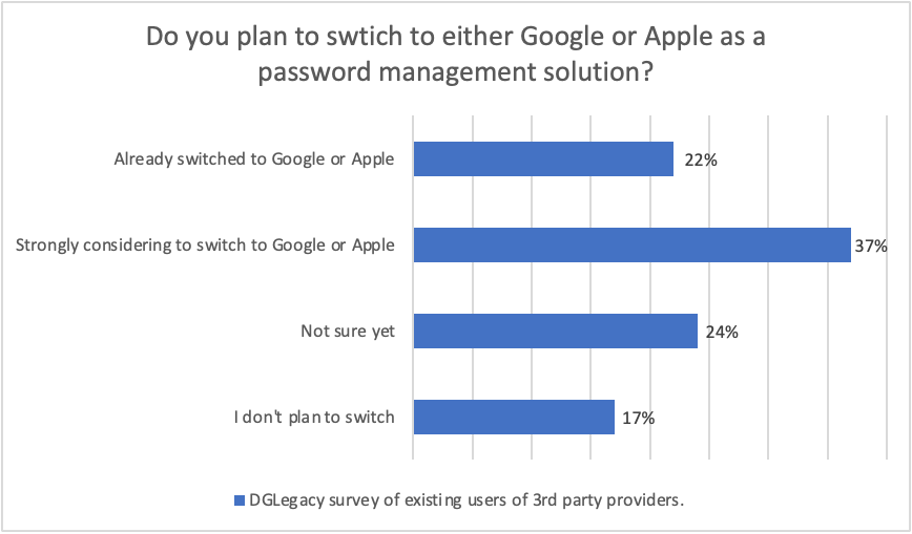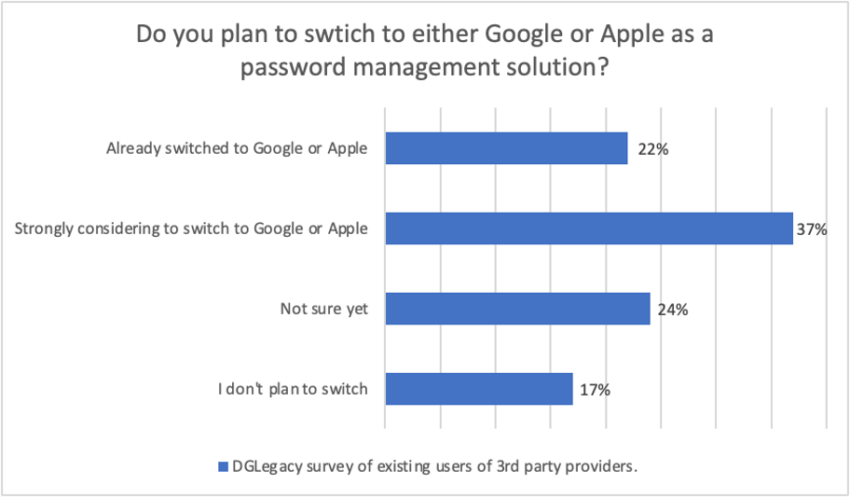 The survey shows that the primary reason for switching is lost trust in password manager solutions due to cybersecurity breaches and vulnerabilities. 
The second reason is the ease of use and good usability of the solutions offered by Apple and Google. 
According to the survey results, the decrease in the number of users of traditional password managers does not mean a net decrease in the overall number of users of these solutions or a decreased need to protect passwords, digital assets and personal information but rather a shift of the users from one type of provider to another. 
Password management solutions have long been used by customers as a single point of truth and protection for their passwords and personal accounts. 
The multiple cyber security breaches and vulnerabilities that have plagued some of the most prominent password managers have made many people reevaluate whether the password managers they use really satisfy their need to securely protect their digital assets and personal information.
At the same time, Big Tech companies such as Apple and Google have continuously improved their built-in password managers. DGLegacy's survey might signal that a inflection point has been reached where users already have enough stimulus to switch from their existing third-party providers to Google or Apple. 
Passwords protection has proven to be a sticky business. Once you have decided that you need a particular provider and you are happy with it, you usually stay with that provider for the long term. Does that fundamental shift mean the end of third-party password managers and a long-term shift to engagement with Google and Apple?
The survey might signal exactly that. And it seems the very near future will show whether that will happen. 
To find out more about how DGLegacy® can help you protect your digital and financial assets, please visit www.dglegacy.com.
2023-06-27