Ana Mineva, the female co-founder of DGLegacy®, has been interviewed by Authority Magazine, a Medium publication devoted to sharing interesting and in-depth interviews featuring people who are authorities in Business, Pop Culture, Wellness, Social Impact, and Tech.
Since 2018, Authority Magazine has conducted more than 50,000 empowering interviews with prominent authorities and C-Suite executives of companies such as: 
Bank of America

Google

Microsoft

MasterCard

American Express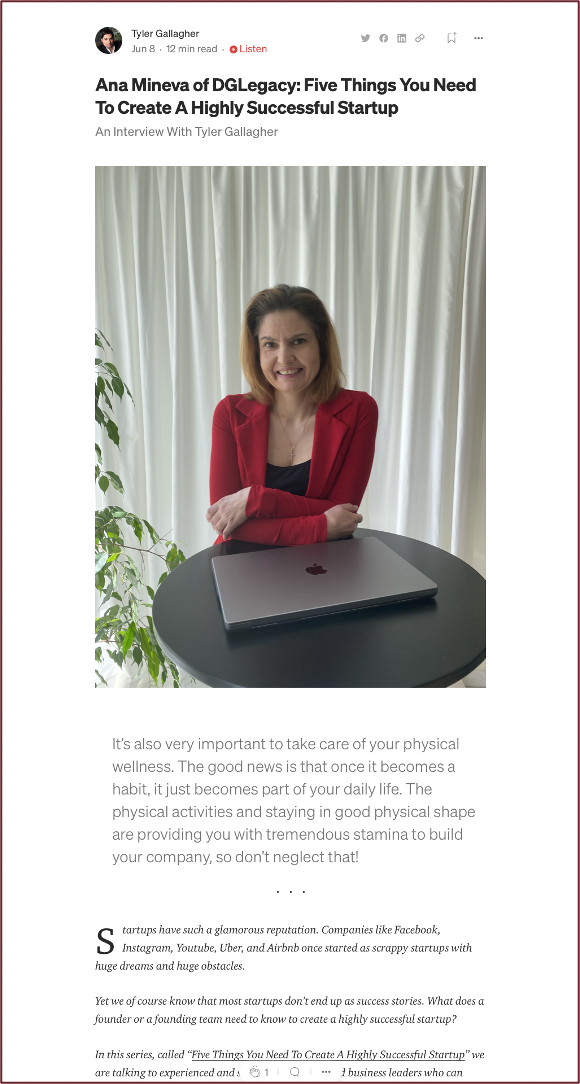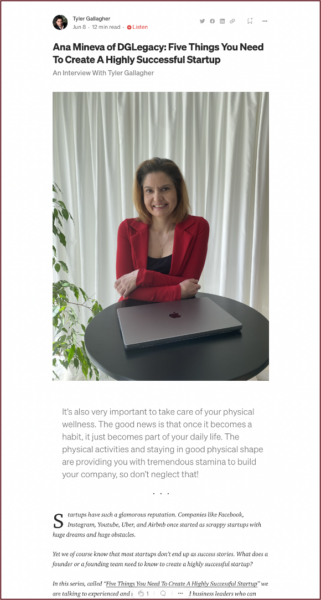 Picture Source: Authority Magazine.
During the interview, Ana Mineva shares more about her "backstory" as a tech entrepreneur and how it all started.
The "aha moment"

that led to the concept of

DGLegacy®,

the

No. 1 digital inheritance

service.

Who inspired her to start the journey with DGLegacy

®

.

What makes DGLegacy stand out.

The hard times that Ana faced at the beginning of the DGLegacy

®

journey.

The main factors that distinguish successful startups from unsuccessful ones.

Five things you need to create a highly successful startup!
Finally, Ana makes recommendations to founders on how to best take care of their physical and mental wellness when starting a company.
A very important topic to which every founder must pay special attention.
The whole interview can be read on Ana Mineva of DGLegacy: Five Things You Need To Create A Highly Successful Startup.
Enjoy your reading!
2022-06-08